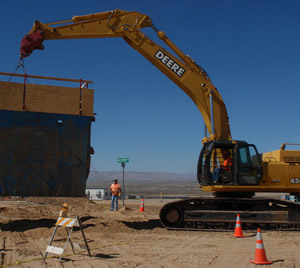 Colorado Construction Supply owns and rents several pieces of specialty equipment for your next large plow or trenching job.  Please contact us for your next project and we will be happy to work with you to discuss your equipment rental needs as well as our rates.
D9R Cable Plow with Bron HSIII
D8N Cable Plow with Bron HSII
Bron Cable Plow
John Deere 650 Dozer
Cat 320CL Excavator (can be equipped with a rock hammer)
John Deere 450 Excavator (w/ up to an 84" bucket, 105,000 lb)
Tesmec Trencher (80,000 lb)
Tesmec Rock Saw (70,000 lb)
Colorado Construction Supply has years of experience transporting heavy equipment throughout the United States.  We can provide a hassle-free service including permitting, escorts and the hauling of most oversized loads.  The pride and joy of our fleet is our Etnyre Blackhawk 9 axle 85 ton trailer, however we also have 60 and 55-ton units as well.  Please contact us for your next transport job and we will work with you to make it a successful one.